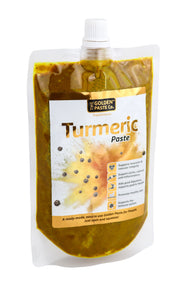 Turmeric Golden Paste for Wellbeing is a traditional recipe of a Golden Paste made with the highest quality ingredients and a mess free alternative to creating a paste from scratch in your own kitchen!
Whether you are already using our products for your furry friends or have nothing to do with animals and would like to try turmeric yourself then you are in the right place.  Our Golden Paste for Wellbeing are made in a *British Retail Consortium (BRC) accredited facility and meet *Good Manufacturing Practice (GMP) standards, ensuring full traceability and the highest possible quality standards to give you peace of mind.

Keep in a cool, dark cupboard. Store below 20°C. Once opened, consume within 6 weeks. This product can be frozen or refrigerated. Shelf life: 12 months.
*BRC accreditation
British Retail Consortium (BRC) is an independent food safety accreditation. It is recognised as proof that high food safety standards are in place and that a food company is safe to supply.
*Good manufacturing practice (GMP) is a system for ensuring that products are consistently produced and controlled according to quality standards.
The pouch packaging is 100% recyclable. We are still searching for a plastic free alternative, watch this space!
1 teaspoon twice daily - 200g will last approx 20 days. 
2 teaspoons twice daily - 200g will last approx 10 days. 
Key benefits
Joint health – supports the body's natural processes to ease inflammation.
Soothing – improves your skin health.
Digestion – benefits gastric health.
Strengthening – supports muscular and vascular integrity.
Good on the inside – supports the immune system.

Plus…
Suitable for vegetarians and vegans and those who need a gluten free diet.
Can be kept in a cupboard, fridge or freezer.
Why use turmeric golden paste for people?
No mess or waste – take it exactly as you wish, hot or cold, in cookery or on its own.
No mixing required – just open and squeeze.
Easy directions for use.
Our Paste is so versatile, you can be as adventurous as you like! Take directly from a teaspoon or use in everyday cooking, including hot and cold drinks.
Add the Golden Paste to your own recipes or take by heating 1/2 a teaspoon with water. Alternatively add to warm milk, almond milk or coconut milk for a warming golden milk 1-3 times per day
Check out our blog for Turmerific ideas!
Children/Small Adults - 1 tsp, twice a day
Average size adults - 1½ - 2 tsp, twice a day
Large Adults - 2½ - 3 tsp, twice a day
Please note these are just guidelines, you can increase the amount until you see desired results.
*A teaspoon holds approximately 5g*
Advice: Food supplements are not a substitute for a varied diet and healthy lifestyle. This product is suitable for vegetarians and vegans
What is Turmeric?
Turmeric is a rhizomatous herbaceous perennial plant from the ginger family. The rhizome is used to produce the more commonly known bright yellow Turmeric spice powder. Turmeric the spice has been used for 4000 years in cooking and is the spice that gives Indian curries their distinctive yellow colour.
Where does Turmeric come from?
Turmeric is native to the Indian Subcontinent and Southeast Asia. We source our turmeric from Indonesia as turmeric from India has been known to contain lead.
What are the benefits of taking Turmeric?
Curcumin, as one of over 200 compounds within Turmeric, is the main active ingredient in Turmeric. It is a strong antioxidant and has a metabolic effect in the natural inflammation cycle of the body's defence mechanisms. Our customers take our supplements for the following: joint health, liver, and digestion health, general wellbeing and much more!
How much of the paste do I need to take?
How do I take the paste?
The paste can be added to food and drink such as lattes, tea, scrambled eggs, curries and much more or some of our customers just take it off the teaspoon.
Is the Golden Paste for people good for arthritis?
Absolutely! Our products support the body's natural inflammation processes. Many of our customers have had success stories with our products and joint health, see our
Reviews
.
Can I take this alongside other medication?
Turmeric can be fine to take alongside most medications, but we would recommend checking with your GP before doing so.
Can Turmeric help with Cancer?
There are many bioactive substances that are being researched in the race to cure cancer. Turmeric, for example, has been shown to have some effect on the release of tumour necrosis factors (TNF) that are critical in the reduction of cancer cells. However, most development is at the test tube level and so it would be unhelpful and unlawful to make any claims on the role of bioactives, extrapolated to daily situations. Many owners do report beneficial effects with our products, and they may well mirror those results found in research situations. As more data becomes available, we may be able to link our bioactives to the complex biochemistry of cancerous cells.
What is the difference between the paste and the capsules?
Our Turmeric Golden Paste for people contains turmeric, coconut oil, pepper, Ceylon cinnamon, whereas our High Strength capsules contain our three key ingredients; turmeric, flax oil and pepper and are also taste free for those that don't like the taste of turmeric! Both products provide you with your daily dose of turmeric goodness. We recommend having both products as capsules can be great for taking on holiday with you!
What does the paste taste of?
Turmeric is a spice so will taste like a curry, why not give it a go in a delicious homemade curry?!
Is this supplement suitable for vegetarians and vegans?
Absolutely! We cater for everyone!
How long will it last?
40 days when taking ½ teaspoon twice per day. 20 days when taking 1 teaspoon twice per day.
Turmeric
We believe in the whole root rather than just an extract as turmeric is made up of over 200+ compounds that synergistically work together. Our curcumin levels will never be lower than 5.1%. We source from Indonesia carefully choosing quality, organic turmeric and steering clear of fillers or additives.
Black Pepper (Piperine)
We have added black pepper into the paste as it contains the bioactive piperine. Piperine has been shown to help poor digestion and support the body's natural anti-inflammatory cycles – that's not all… arguably the most important benefit is that it increases absorption and bioavailability of curcumin – some say by up to 2000%!
Ceylon Cinnamon
We use Ceylon (true) cinnamon which supports the body's natural anti-inflammatory cycles, contains antioxidants, as well as supporting a healthy microbial environment. This super powerful ingredient supplies a range of bioactives that support gut health, absorption and the optimisation of insulin metabolism.
Coconut Oil
We use cold pressed and organic coconut oil, as this aids bioactive absorption and supports intestinal health. Quite simply, it is needed for the turmeric to work as curcumin has low solubility in water. The coconut oil is the perfect healthy fat for the curcumin to attach to and the body to absorb.
Ingredients: Turmeric, Water, Cold Pressed Coconut Oil, Ceylon Cinnamon, Black Pepper, Citric Acid, Potassium Sorbate.
Typical per 100g:
Energy kJ kcal

883.6

211.3

Fat

of which

saturates

14.1

13.0

Carbohydrates

of which

sugar

22.7

0.8

Fibre
11.5
Protein
2.2
Sodium mg
5.7
Coming Soon...
---