Meet our team of ambassadors; they have all had success from using our products and help us spread the word so we can help more horses, pets and peoples lives!
Bourbon, Painsley and Eleven - 3 Working Cocker Spaniels from Surrey, England
Bourbon is 10 years old; Paisley is 9 years old and is a rescue dog and the newest member is Eleven, who is 2. They all enjoy the health benefits of turmeric by The Golden Paste Company and their owner, Heather, firmly believes the supplement to be a key factor to their health and vitality.

The dogs compete in Agility, Obedience, Obreedience, Rally and Parkour and are working gundogs who also dabble in advertising and media work. They are also heavily involved in the Good Citizen displays at Crufts and Discover Dogs with Heather.

Their favourite things are food, walkies, balls and the beach.They are passionately raw fed and enjoy life chemical free.
View Bourbon, Paisley and Eleven Instagram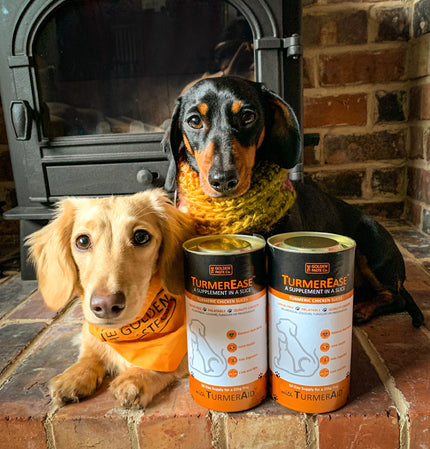 Sidney and Nancy - Miniature Dachshund Duo from Ironbridge, UK.
Sidney (5) is a real Jack the lad type who loves posing for the camera and can perform plenty of tricks. He's mainly known for his adorable wolf-like howling which went viral on social media.

Cream, longhaired Nancy joined him in early 2021, she's the textbook 'annoying little sister' - but just look at her! No one can stay mad for long. Sid and Nancy may be small, but they have the personality (and bark!) of a big dog.

They're both real adventurers who love days out and exploring - don't be fooled by their short legs! They are fed on a raw diet and The Golden Paste Company products are part of their healthy and tasty daily food routine - they love the products and they're proud to be representing the brand!
View Sidney and Nancy on Instagram
View Sidney and Nancy TikTok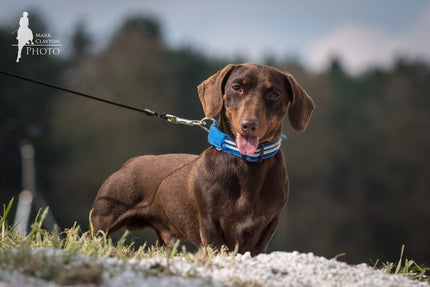 DHI Rocket
Owned by Heidi Woodhead (DHI Eventing)
Born in lockdown in the heart of Yorkshire, Rocket has become an integral and significant part of life at DHI Event Horses. Whether starring in viral Instagram & Facebook videos, or chasing squirrels, Rocket is flat out on a day-to-day basis. His first lorry trip as an eventing dog was to Oasby Horse Trials in March 2020 where he met Margot McEwen, who two and half years later became the mother of his children. Rocket is a very proud father of five pups, with strong eventing heritage.

Rocket's interests include:
- Barking at squirrels, barking at delivery drivers, barking at people in general
- Sleeping in front of the fire on the sofa
- Eating turmeric chicken treats
- Following Mum around, everywhere
- Rolling in fox poo

Rocket loves:
- Walking cross-country courses
- Travelling in the lorry – where he is always in charge in the cab
- Cameras, and will happily pose for a picture at a moment's notice
- Being a Brand Ambassador for The Golden Paste Company
- Christmas
- Eventing

Greatest obsession:
-TurmerEase Turmeric treats
- (and squirrels)

Can often be found:
- In the lorry, on a wet day, at an event!
Keep up-to-date with rocket's adventures on instagram here!
Eilberg Dressage
Ferdi,Geri, Maria and Michael make up the very successful family team of Eilberg Dressage:
Ferdi Eilberg:
Ferdi was born in Germany and trained under multiple Olympic Gold Medallist, Reiner Klimke. He moved to England in 1980 and has ridden for the British Dressage Team many times, winning team silver in the 1993 European Championships with ArunTor who he also partnered in the 1998 World Games in Rome. He was also shortlisted with Arun Tor and Demonstrator for the 1996 Olympics. Ferdi was dressage trainer to the British eventing team from 1982 – 92 and still coaches Mary King to this day. He was appointed Director of Coaching to the British dressage team in 2002 and Performance Manager in 2003, the year the team won its first European medal, bronze, in 10 years. Ferdi still continues to train from his training yard near Redditch in Worcestershire.

Geri Eilberg:
Geri met Ferdi whilst working in Germany and returned to the UK with him in 1980 to set up the Dalgety Spillers Dressage Foundation. They have been based at their family home, Pink Green Farm in Worcestershire since 1980. Geri oversees admin and day to day organisation where she particularly enjoys her involvement in the breeding and education of their homebred horses.

Maria Eilberg:
Maria won two European pony team silver medals and two Young Rider European team bronze medals in her earlier years. 2006: She was chosen as travelling reserve rider for the World Championships in Aachen with her Young Rider horse Two Sox who was bought as an unbroken 3 yr. old. 2007: She joined the World Class Performance Squad aged 23 and has since ridden on Nations Cups. 2008: was a very exciting season for Maria and Two Sox , in August they travelled to China as the reserve horse and rider for the Olympic Games and in September won the Blue Waters Grand Prix Freestyle and became the overall British National Champions. 2009/2010: they were members of the European and World Silver Medal winning teams in Windsor and Kentucky respectively. Maria has enjoyed much success training on and competing through the levels on several different horses and more recently in international events with her own Royal Concert and Farah Al Khojai's Sarrotti. She is currently working as a freelance coach and is a list one judge.

Michael Eilberg:
2007: Michael rode his first affiliated dressage test having first competed in pony, young rider and senior showjumping trials. 2009: Michael joined the World Class Development squad and went on to gain international placing's and wins at premier league shows with his horses Marakov and Monet in his first season of Grand Prix. 2011: Undoubtedly the highlight was his results with the British bred Woodlander Farouche who followed her unbeaten record as a four-year-old with the Shearwater Five Year National and Badminton Young Horse titles in the UK. 2011/12 Michael and Farouche went on to win the World Championships in Verden for five- and six-year-old horses holding the current world record for this competition of 9.88%. Michael has since been on the British Team on three consecutive occasions: 2013: Half Moon Delphi Bronze Team medal European Champs at Herning 2014: Half Moon Delphi Silver medal World Games in Caen and individually placed 8th. 2015: European Silver medal team in Aachen with his own Marakov. 2022: MSJ Encore was the winner of the 7-year-old title. 2023: MSJ Encore gained third place at HOYS int the Rlite Future Dressage Championship. MSJ Dante and Figlio have competed successfully at Grand Prix level, winning at Premier League competitions, and now aiming for international events in 2024. Michael is currently busy producing horses, many of which are now homebred. Michael is in great demand as a coach and has twice hosted the BD National Convention alongside Daniel Bachman and Gareth Hughes.

Quote from Eilbergs:
"The horses are fed TurmerAid for its natural anti-inflammatory properties and for those horses with sensitive skin we feed the Turmeritch for its soothing properties from The Golden Paste Company, sister company to British Horse Feeds".